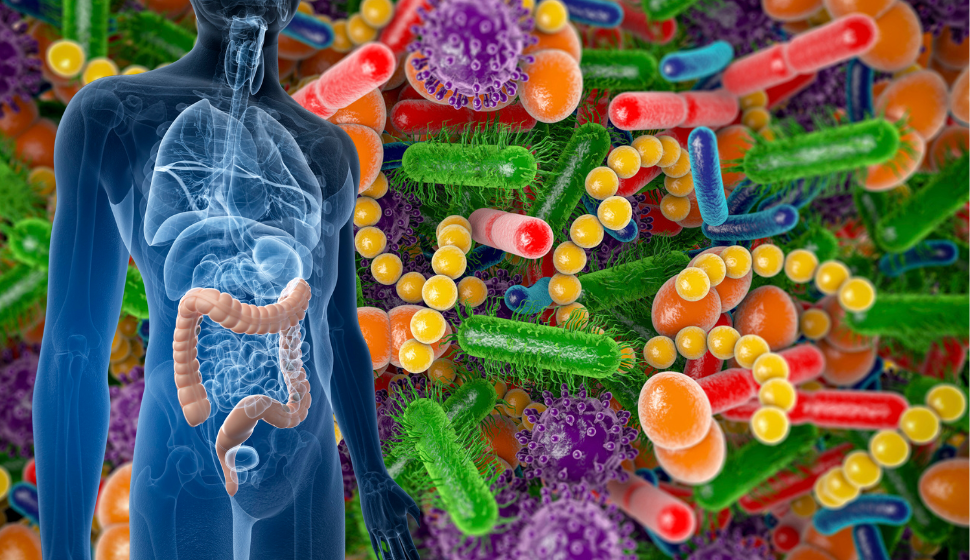 Undoing Glyphosate-Induced Gut Damage
The human gut microbiome is a complex and unique ecosystem in which trillions of microorganisms, including bacteria, viruses, and fungi, call "home." Until rather recently, we thought these microorganisms played a role digestion, bowel regularity, and little else. Yet, research has borne out how they play a critical role in maintaining human health, influencing immune function and mental health, as their influence goes far beyond the gastrointestinal tract. The composition of the gut microbiome is influenced by a variety of factors, including genetics, lifestyle choices, and diet. No two people have the exact same composition… it's truly that unique. When a person's microbiome is said to be in harmony, or balance, it is the "good" microbes that keep the "bad" microbes in check by not allowing them to over-grow.
In recent years, researchers have directed their attention to the influence of diet and nutrition on the gut microbiome. Studies have shown that foods we eat can have a powerful effect on the composition and diversity of the gut microbiota, with potentially significant implications for our health (or unhealth). This blog will explore the fascinating relationship between diet and the gut microbiome, with an emphasis on the deleterious effect of pesticide residues on foods, and specifically glyphosate.

Top 5 Gut-Antagonizing Foods/Habits
1. Refined Carbohydrates & High-Sugar-Foods
2. Processed Meats
3. High-Fat Foods
4. Artificial Sweeteners
5. Excessive Alcohol Intake

Refined carbs, added sugars, processed meats, high-fat foods, artificial sweeteners, and excessive alcohol are five of the top food antagonists to gut health. For many people, these foods are simply part of their normal, everyday diet, hence the term "Standard American Diet," or SAD, for short. As a consequence, a majority of Americans are deficient in the vitamins, minerals, antioxidants, and beneficial fatty acids that an otherwise healthy, high fiber, nutrient-dense diet provides. So, yes, it's truly sad because the microbiome suffers, as does your physical and mental well-being, if you consistently eat this way.
Microbes in the gut microbiome will "eat" just about anything you put into your mouth, but that doesn't mean that they'll thrive. In fact, added sugars in the SAD can (1) irritate and weaken the delicate GI lining; (2) feed the "bad" bacteria and yeast (fungi), which leads to gut dysbiosis; and (3) contribute to metabolic dysfunction. Furthermore, foods in the SAD typically contain more pesticides, antibiotic residues, synthetic growth hormones, and microplastics.

How does glyphosate affect the gut microbiome?
Glyphosate, the active ingredient in many herbicides, has been shown to negatively affect the gut microbiome. Glyphosate is sprayed on the mainstay crops which comprise the SAD – corn, wheat, and soy. Research shows that glyphosate can inhibit the growth of beneficial gut bacteria, thus allowing harmful bacteria to thrive. A loss of abundance and diversity of "good" bacteria leads to an imbalance in the microbiome, or dysbiosis, which is linked to impaired immune function and other negative health effects. Studies have also suggested that glyphosate exposure may be linked to certain debilitating bowel conditions and autoimmunity.

Which foods are highest in glyphosate residues?
Foods that are highest in glyphosate residues are typically those that are genetically modified (GMOs) and treated with glyphosate-based herbicides, such as soy, corn, canola, and cottonseed. Other foods that may contain elevated levels of glyphosate residues include wheat, oats, barley, legumes, fruits and vegetables when they are grown through conventional farming methods. In 2021, the Environmental Working Group (EWG) published their findings which showed popular American foods – oats, wheat, and barley-based products – found in oatmeal, granola, and cereals, were particularly high in glyphosate.
Of course, organically grown foods typically have much lower levels of any pesticide contamination. Unfortunately, pesticide residues are often detected on an organic farm if it is within the pesticide drift area of a conventional farm.

10 Practical Solutions to Protecting Your Gut

Avoid the SAD.
Eat a Mediterranean style diet.
Eat organic whenever possible.
Know where your food is grown or grow your own without using chemicals.
Choose foods from local farmers markets.
Thoroughly wash fresh fruits and vegetables.
Avoid or minimize soy, corn, wheat and wheat-containing products.
Consume grass-fed or pastured meats.
Support farmers who do not use glyphosate or other toxic chemicals.
Get involved in the effort to ban glyphosate in the United States.

How can bovine colostrum help mitigate gut damage caused by glyphosate-contaminated foods?
Bovine colostrum contains high levels of immunoglobulins and other immune factors that can help remediate dysbiosis. Colostrum's natural growth factors can stimulate the growth and repair of gut cells, thereby repairing and strengthening the gut lining. This makes liposomal bovine colostrum an ideal supplement to take on a daily basis. Depending on how compromised your gut lining is and the degree of dysbiosis, it may take some time to re-establish homeostasis within your gut. Stick with a twice daily colostrum regimen because failing to establish robust gut health is a significant risk to overall health. And because glyphosate isn't going away anytime soon, daily colostrum is added insurance for your health and well-being.

How can probiotics help mitigate gut damage caused by glyphosate contaminated foods?
Probiotics can help mitigate gut damage caused by glyphosate-contaminated foods by (1) promoting the growth of beneficial gut bacteria; (2) increasing bacterial diversity within the microbiome; (3) crowding out harmful bacteria; and (4) improving gut barrier function by strengthening the GI lining. An all-around probiotic supplement containing multiple bacteria strains may help support the microbiome's vital functions, especially when colostrum is added; the colostrum acts a prebiotic.
In conclusion, repairing the gut microbiome after years or decades of consuming glyphosate-contaminated foods is a challenging task, but not impossible. It requires a comprehensive approach, including a healthy diet, probiotics, prebiotic foods (to feed the probiotics), and liposomal bovine colostrum. Additionally, it's important to eliminate or reduce your exposure to glyphosate as much as possible. To begin, choose organic and non-GMO foods, and avoid glyphosate-containing herbicides around your home, and never use them on home-grown produce. If you have persistent gut issues, seek the advice and guidance of a qualified healthcare professional. With dedication and persistence, it's possible to restore and maintain a healthy gut microbiome, which is essential for overall health and wellbeing.