Colostrum Research Clearinghouse Media Kit
Bovine Colostrum Supplementation: A Guide for Health Writers & Influencers
Bovine colostrum (BC) is a unique and versatile nutritional supplement that has been on the market for humans for more than 30 years. Utilized primarily for athletic performance in the 2000s, bovine colostrum has now emerged as an immune-enhancing, gut-restoring supplement offering benefits to people of all ages. From infants to centenarians, BC has something to offer anyone looking to improve their current health, reduce the risk of disability, and enjoy more physical and mental vitality. And whether professional or amateur, there are added benefits for athletic individuals and avid exercisers, including increased lean muscle mass, improved recovery between workouts, and fewer upper respiratory infections.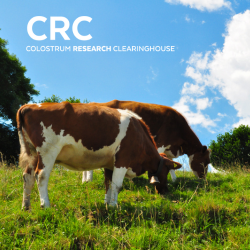 While many health/wellness writers and influencers are well-acquainted with traditional vitamins, minerals, phytonutrients, and botanicals, few realize the importance of bovine colostrum as a dietary supplement. Furthermore, many people do not know what colostrum is or why it's known as "the first food of life." Colostrum is expressed by all female mammals, including humans, after they give birth and provides the first food for newborns. It consists of concentrated immune bioactives, growth factors, and a plethora of other nutrients which help jumpstart the newborn's immune system and heal its leaky gut. Colostrum is not breastmilk, which comes in about 72 hours later as colostrum production tapers off.
The importance of a mother's colostrum (and breastmilk) cannot be understated in terms of her newborn's health and development; colostrum and breastmilk consumption provide a vital foundation for physical and mental growth and development. Beyond infancy, colostrum offers health benefits, and this is where we turn to animal-sourced colostrum. In much the same way that a newborn mammal has a leaky gut at birth, and colostrum seals up the microscopic holes, so too can anyone develop leaky gut later in life and commercial mammalian colostrum can be utilized.
Bovine colostrum is most plentiful due to the Western dairy industry, although colostrum from goats, yaks, camels is also available in some parts of the world. There has been some concern that BC supplement manufacturers deprive the newborn calves of their mothers' colostrum. This is not the case. Dairy cows produce significantly more colostrum than their calves consume, which allows for ethical harvesting of the extra.
Bovine colostrum supplementation has a variety of uses, and consumers are often drawn to the one or two that address their specific health concerns. It may be tempting to generalize BC as a "snake oil supplement," yet as we learn more about the connection between gut integrity, the microbiome, and immune health, its many uses are very much connected. It's likely that at least 8 out of 10 Americans has leaky gut, many of whom are unaware. And yet, they suffer needlessly from conditions linked with leaky gut and an unbalanced microbiome – food allergies, autoimmune diseases (i.e., arthritis, Crohn's disease, depression, fibromyalgia, multiple sclerosis, type 1 diabetes), and a host of other chronic digestive health issues (i.e., Crohn's, IBS, ulcerative colitis, GERD).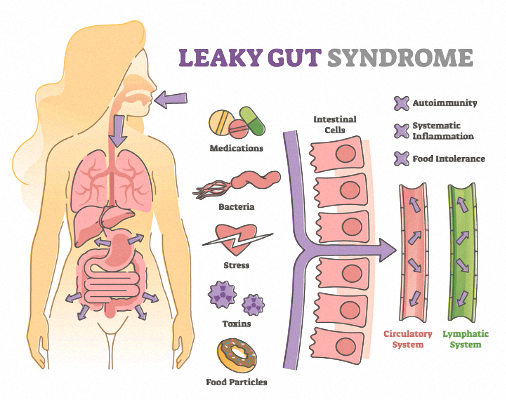 Just as bovine colostrum is not snake oil, or some miracle cure for what ails an individual, daily supplementation has provided improved health, as evidenced by the thousands of testimonials in the public domain. Ongoing scientific research continues to investigate the mechanisms of how colostrum works to heal the body. The most accepted theory is that by healing a leaky gut, the human body heals itself. By stopping the leakage of toxins (pollution, pesticides), pathogenic bacteria, and undigested food particles through a leaky gut into the bloodstream, the immune system won't go into overdrive attacking the foreign material, nor will it cause chronic inflammation and attack the body's own tissues and organs. The task of healing leaky gut is primarily performed by colostrum's growth factors. The immune bioactives are responsible for revving up an underactive immune system or toning down an overactive immune system in response to infectious threats posed by pathogenic bacteria and viruses.
In additional to daily bovine colostrum supplementation, a healthy lifestyle is equally imperative. No matter how much bovine colostrum a person takes, it's not a substitute for being sedentary, eating the Standard American Diet, smoking, drinking excessively, not getting enough sleep, and not managing one's personal stress. There are some factors that are simply unavoidable, such as occasional antibiotic or pain medication use, environmental pollution, pesticide-laden foods, and/or contaminated water. Bovine colostrum supplementation helps combat these factors and offers a tangible chance to live life with maximum health span.
Occasional bovine colostrum use doesn't generally help either. There are ongoing threats to both an integrous gut lining and a balanced microbiome, so BC supplementation should become a twice-daily habit. Ideally, bovine colostrum should be taken on an empty stomach upon rising in the morning and before bedtime. Because BC is a food – and not a drug – it can be consumed in any quantity; a typical serving is 1 Tablespoon two to four times per day. Depending on one's body-awareness, some people will notice improvements in a week or two, and most within 4-6 weeks.
Bovine colostrum does contain some naturally-occurring lactose, so people with a lactose sensitivity should begin their supplementation regimen with a small amount and gradually build up to the recommended serving size. As an animal product, BC may not be appropriate for vegans and some vegetarians. It should be noted, however, that plant-based food is able to do what BC can do in terms of healing leaky gut. Consistent bovine colostrum use is the most effective and clinically proven way to heal leaky gut.
Applications for BC Use:
Leaky Gut
Microbiome Optimization
Immune Health
Athletic Performance
Anti-aging
Infant Health, Failure to Thrive
Post-partum Rejuvenation
Allergies & Autoimmune Diseases
Mild Mental Health Issues
Mild Neurocognitive Decline
Chronic Pain
Joint Pain
Influenza & Viral Infections
Inflammatory Skin Conditions
Topical Wounds
Mammalian Pet Health
Clinical Research & Scientific Literature:
1.

Bovine Colostrum: Its Constituents and Uses.

Playford RJ, Weiser MJ.

Nutrients. 2021 Jan 18;13(1):265. doi: 10.3390/nu13010265. PMID: 33477653.Review.

2.

Bovine Colostrum and Its Potential for Human Health and Nutrition.

Arslan A, Kaplan M, Duman H, Bayraktar A, Ertürk M, Henrick BM, Frese SA, Karav S.

Front Nutr. 2021 Jun 21;8:651721. doi: 10.3389/fnut.2021.651721. eCollection 2021. PMID: 34235166.Review.

3.

Clinical applications of bovine colostrum therapy: a systematic review.

Rathe M, Müller K, Sangild PT, Husby S.

Nutr Rev. 2014 Apr;72(4):237-54. doi: 10.1111/nure.12089. Epub 2014 Feb 26. PMID: 24571383.Review.

4.

Potential Benefits of Bovine Colostrum in Pediatric Nutrition and Health.

Sangild PT, Vonderohe C, Melendez Hebib V, Burrin DG.

Nutrients. 2021 Jul 26;13(8):2551. doi: 10.3390/nu13082551. PMID: 34444709.Review.

5.

Diverse Immune Effects of Bovine Colostrum and Benefits in Human Health and Disease.

Ghosh S, Iacucci M.

Nutrients. 2021 Oct 26;13(11):3798. doi: 10.3390/nu13113798. PMID: 34836054.Review.

6.

Production and properties of health-promoting proteins and peptides from bovine colostrum and milk.

Korhonen HJ.

Cell Mol Biol (Noisy-le-grand). 2013 Nov 3;59(1):12-24. PMID: 24200017.Review.

7.

Pilot study of probiotic/colostrum supplementation on gut function in children with autism and gastrointestinal symptoms.

Sanctuary MR, Kain JN, Chen SY, Kalanetra K, Lemay DG, Rose DR, Yang HT, Tancredi DJ, German JB, Slupsky CM, Ashwood P, Mills DA, Smilowitz JT, Angkustsiri K.

PLoS One. 2019 Jan 9;14(1):e0210064. doi: 10.1371/journal.pone.0210064. eCollection 2019. PMID: 30625189.Clinical Trial.

8.

Bovine colostrum: an emerging nutraceutical.

Bagwe S, Tharappel LJ, Kaur G, Buttar HS.

J Complement Integr Med. 2015 Sep;12(3):175-85. doi: 10.1515/jcim-2014-0039. PMID: 25781716Review.

9.

Colostrum Therapy for Human Gastrointestinal Health and Disease.

Chandwe K, Kelly P.

Nutrients. 2021 Jun 7;13(6):1956. doi: 10.3390/nu13061956. PMID: 34200282.Review.

10.

Supplementation of Bovine Colostrum in Inflammatory Bowel Disease: Benefits and Contraindications.

Sienkiewicz M, Szymańska P, Fichna J.

Adv Nutr. 2021 Mar 31;12(2):533-545. doi: 10.1093/advances/nmaa120. PMID: 33070186.Review.

11.

Bovine Colostrum, Telomeres, and Skin Aging.

Jogi R, Tager MJ, Perez D, Tsapekos M.

J Drugs Dermatol. 2021 May 1;20(5):538-545. doi: 10.36849/JDD.5851. PMID: 33938706.

12.

Fortification With Bovine Colostrum Enhances Antibacterial Activity of Human Milk.

Gao X, Li Y, Olin AB, Nguyen DN.

JPEN J Parenter Enteral Nutr. 2021 Sep;45(7):1417-1424. doi: 10.1002/jpen.2060. Epub 2021 Feb 11. PMID: 33305396. 

13.

Oral bovine colostrum supplementation does not increase circulating insulin-like growth factor-1 concentration in healthy adults: results from short- and long-term administration studies.

Davison G, Jones AW, Marchbank T, Playford RJ.

Eur J Nutr. 2020 Jun;59(4):1473-1479. doi: 10.1007/s00394-019-02004-6. Epub 2019 May 23. PMID: 31123862.

14.

The Use of Bovine Colostrum in Sport and Exercise.

Davison G.

Nutrients. 2021 May 24;13(6):1789. doi: 10.3390/nu13061789. PMID: 34073917.Review.

15.

Potential use of Colostrum Bovinum supplementation in athletes – A review.

Główka N, Woźniewicz M.

Acta Sci Pol Technol Aliment. 2019 Apr-Jun;18(2):115-123. doi: 10.17306/J.AFS.0654. PMID: 31256539.Review.

16.

Bovine colostrum enhances natural killer cell activity and immune response in a mouse model of influenza infection and mediates intestinal immunity through toll-like receptors 2 and 4.

Wong EB, Mallet JF, Duarte J, Matar C, Ritz BW.

Nutr Res. 2014 Apr;34(4):318-25. doi: 10.1016/j.nutres.2014.02.007. Epub 2014 Mar 6. PMID: 24774068.

17.

Bovine Colostrum Applications in Sick and Healthy People: A Systematic Review.

Guberti M, Botti S, Capuzzo MT, Nardozi S, Fusco A, Cera A, Dugo L, Piredda M, De Marinis MG.

Nutrients. 2021 Jun 25;13(7):2194. doi: 10.3390/nu13072194. PMID: 34202206. 

18.

Bovine Colostrum for Preterm Infants in the First Days of Life: A Randomized Controlled Pilot Trial.

Juhl SM, Ye X, Zhou P, Li Y, Iyore EO, Zhang L, Jiang P, van Goudoever JB, Greisen G, Sangild PT.

J Pediatr Gastroenterol Nutr. 2018 Mar;66(3):471-478. doi: 10.1097/MPG.0000000000001774. PMID: 29019855.Clinical Trial.

19.

The contribution of bovines to human health against viral infections.

Saied AA, Metwally AA, Mohamed HMA, Haridy MAM.

Environ Sci Pollut Res Int. 2021 Sep;28(34):46999-47023. doi: 10.1007/s11356-021-14941-z. Epub 2021 Jul 16. PMID: 34272669.Review.

20.

Oral Supplementation with Bovine Colostrum Decreases Intestinal Permeability and Stool Concentrations of Zonulin in Athletes.

Hałasa M, Maciejewska D, Baśkiewicz-Hałasa M, Machaliński B, Safranow K, Stachowska E.

Nutrients. 2017 Apr 8;9(4):370. doi: 10.3390/nu9040370. PMID: 28397754.Clinical Trial.

21.

Effects of bovine colostrum on recurrent respiratory tract infections and diarrhea in children.

Saad K, Abo-Elela MGM, El-Baseer KAA, Ahmed AE, Ahmad FA, Tawfeek MSK, El-Houfey AA, Aboul Khair MD, Abdel-Salam AM, Abo-Elgheit A, Qubaisy H, Ali AM, Abdel-Mawgoud E.

Medicine (Baltimore). 2016 Sep;95(37):e4560. doi: 10.1097/MD.0000000000004560. PMID: 27631207.Clinical Trial.

22.

The effect of bovine colostrum supplementation on intestinal injury and circulating intestinal bacterial DNA following exercise in the heat.

March DS, Jones AW, Thatcher R, Davison G.

Eur J Nutr. 2019 Jun;58(4):1441-1451. doi: 10.1007/s00394-018-1670-9. Epub 2018 Mar 24. PMID: 29574607.

23.

Can Drinking Microfiltered Raw Immune Milk From Cows Immunized Against SARS-CoV-2 Provide Short-Term Protection Against COVID-19?

Jawhara S.

Front Immunol. 2020 Jul 28;11:1888. doi: 10.3389/fimmu.2020.01888. eCollection 2020. PMID: 32849647.Review.

24.

The Use of Bovine Colostrum in Medical Practice and Human Health: Current Evidence and Areas Requiring Further Examination.

Playford RJ.

Nutrients. 2021 Dec 27;14(1):92. doi: 10.3390/nu14010092. PMID: 35010967.

25.

Production of Bovine Colostrum for Human Consumption to Improve Health.

Kaplan M, Arslan A, Duman H, Karyelioğlu M, Baydemir B, Günar BB, Alkan M, Bayraktar A, Tosun Hİ, Ertürk M, Eskici G, Duar RM, Henrick BM, Frese SA, Karav S.

Front Pharmacol. 2022 Jan 3;12:796824. doi: 10.3389/fphar.2021.796824. PMID: 35046820; PMCID: PMC8762312.
Mehra R, Garhwal R, Sangwan K, Guiné RPF, Lemos ET, Buttar HS, Visen PKS, Kumar N, Bhardwaj A, Kumar H.
Nutrients. 2022 Feb 4;14(3):659. doi: 10.3390/nu14030659. PMID: 35277018; PMCID: PMC8840100.
Dziewiecka H, Buttar HS, Kasperska A, Ostapiuk-Karolczuk J, Domagalska M, Cichoń J, Skarpańska-Stejnborn A.
Nutrients. 2022 Jun 17;14(12):2512. doi: 10.3390/nu14122512. PMID: 35745242; PMCID: PMC9227274.
Kim H, Kim DE, Han G, Lim NR, Kim EH, Jang Y, Cho H, Jang H, Kim KH, Kim SH, Yang Y.
Adv Healthc Mater. 2022 Mar;11(6):e2102027. doi: 10.1002/adhm.202102027. Epub 2021 Dec 16. PMID: 34865307.
Tarff A, Drew-Bear LE, Di Meglio L, Yee R, Vizcaino MA, Gupta P, Annadanam A, Cano M, Behrens A.
Exp Eye Res. 2022 Jul;220:109093. doi: 10.1016/j.exer.2022.109093. Epub 2022 Apr 28. PMID: 35490838.
Han G, Kim H, Kim DE, Ahn Y, Kim J, Jang YJ, Kim K, Yang Y, Kim SH. The
Pharmaceutics. 2022 Jan 27;14(2):307. doi: 10.3390/pharmaceutics14020307. PMID: 35214040; PMCID: PMC8877896.
Suggested Themes/Titles:
Bovine Colostrum: Mother Nature's Biohack for Immune Health
Are Cows Key to Human Health?
The First Food of Life is Key to Immune & Gut Health
Better Gut Health Begins with Bovine Colostrum
Colostrum is Mother Nature's Gift to All Mammals, Including Humans
An Ancient Food Becomes a Modern Superfood
Fortify Your Gut to Ensure Better Immune Health
Bovine Colostrum: It's Not Just for Athletes
For Additional Information: visit www.ColostrumResearch.com
Inquiries: info@ColostrumResearch.com
MEDIA
If you are a journalist interested in writing about bovine colostrum and its health benefits, click here for our Writers Guide. After publication, please email the article, web page, or video link with us at info@colostrumresearch.com.
For a complimentary copy of Holy Cow: The Miracle of Life's First Food by Douglas Wyatt (ColostrumResearch.com / Colostrum Research Clearinghouse Founder), please email your request to info@colostrumresesarch.com. Include your name and mailing address. Note: at this time, we are shipping to U.S. and Canada addresses only. Thank you.